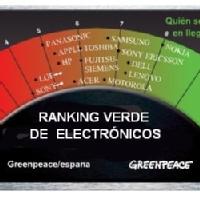 Add to web

Code to insert in web site:
0 comments
4 editions
7143 visits
Greenpeace released a Guide to Greener Electronics which ranks 18 major computer, mobile phone, television, and video game console manufacturers based on their global policies on chemical waste disposal and recycling, and their policies on global warming. This list highlights manufacturers who take responsibility for their products, and also encourages manufacturers to be more environmentally conscience. The first edition of Greenpeace`s Guide to Greener Electronics was released in August of 2006 and since then has garnered importance as it has been used in publicity campaigns by manufacturers who have ranked high on the list.
Many rankings have multiple editions and you can choose the one you want to display
Did you know you can display the rankings in different ways?