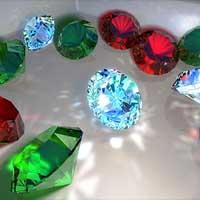 Add to web

Code to insert in web site:
9 comments
1 editions
41504 visits
A precious stone or gemstone is a mineral, rock, or petrified material which, when cut and polished, can be used in jewelry (although some are too fragile to be used in jewelry and instead are on display at museums). A gem is evaluated mainly for its beauty and perfection. The characteristics that lend aesthetic value to a gem are its color, an unusual optical phenomenon, an incrustation like a fossil, it rarity, and sometimes the peculiar shape of the crystal. Keeping in mind all these factors, and from a general point of view, this ranking presents the most valuable precious stones used in jewelry.
Did you know you can display the rankings in different ways?