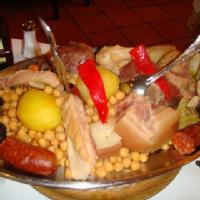 Add to web

Code to insert in web site:
0 comments
31 lists
3372 visits
Según algunos autores, Madrid es cocina fruto de las prisas de las tascas y figones, de platos elaborados rápido y mostrando sabores para ser acompañados con vinos de la región. Muchos de los platos que poseen la denominación «a la madrileña» son originarios de las tascas y tabernas madrileñas.Una de las características de la gastronomía madrileña es su capacidad de adaptar platos provenientes de otras zonas geográficas de España. Algunos de los platos y costumbres culinarias más tradicionales tienen su origen en la emigración de poblaciones procedentes de diversas partes de España, que tuvo su existencia a comienzos de siglo XX. Hoy en día no es extraño observar cómo las comidas de otras culturas se instalan en numerosas calles haciendo más rica la oferta y abriendo las puertas a una cocina fusión. Desde este ranking os animamos a que votéis por el plato que más os gusta de la gastronomía de la Comunidad de Madrid.
Did you know you can display the rankings in different ways?

Check your privacy settings on your new preference list