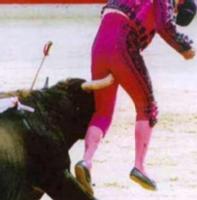 Add to web

Code to insert in web site:
2 comments
21 lists
13444 visits
There are good bullfighters. And then there are more unfortunate or even clumsy ones. Although bullfighting is a serious endeavor as matadors risk their lives in the fights, this ranking has a humorous tone to it as it sets out to find the most clumsy fighters of this art of bullfighting. The first names to be included are the most respected figures in Spanish bullrings, but the list is open to any name you'd like to include. Be our guest!
Did you know you can display the rankings in different ways?

Check your privacy settings on your new preference list