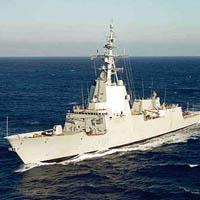 Add to web

Code to insert in web site:
2 comments
1 editions
16803 visits
A frigate is a battleship with a displacement of 2000 to 2500 tons. The first frigates date back to the 17th century, when they were simple vessels with three masts, they were lighter than most others, and they comprised the main nucleus of most fleets. They disappeared during the mid 19th century and in World War II the term "frigate" was once again used, in this case to refer to a vessel somewhat smaller than the destroyer, with 1500 - 2000 tons. In European fleets frigates became popular during the Cold War in anti-submarine and anti-aircraft activities to protect other vessels, especially aircraft carriers. In this report you can observe the countries that have the most active battleships in the world.
Many rankings have multiple editions and you can choose the one you want to display
Did you know you can display the rankings in different ways?
Which edition do you want to see? »