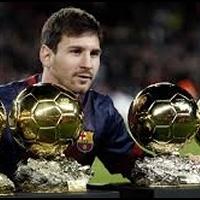 Add to web

Code to insert in web site:
3 comments
1 editions
5408 visits
El Balón de Oro (fr. Ballon d'Or) fue un premio individual otorgado desde 1956 hasta 2009 por la revista francesa especializada France Football al mejor jugador inscrito cada año en algún campeonato de fútbol profesional europeo, razón por la cual también fue conocido como el Premio al mejor jugador europeo del año (en. European Footballer of the Year award). En el 2010 el grupo editorial Amaury, propietario de France Football, acordó con la Federación Internacional de Fútbol Asociado (FIFA) la fusión de ambos premios para dar origen al actual FIFA Balón de Oro, del que France Football es el principal auspiciador y donante del trofeo.
Author: chanchoviejo (Updated

Jan 12, 2016

)
Sources:

Internet

wikipedia
Did you know you can display the rankings in different ways?