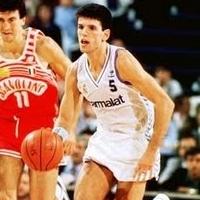 Add to web

Code to insert in web site:
0 comments
15 lists
5616 visits
¿Quién és el mejor jugador (extranjero o comunitario) de la Liga ACB en toda su historia? »

Desde 1983, la Liga ACB ha ido creciendo año tras año, hasta ser considerada actualmente la mejor liga del mundo tras la NBA. Por la liga han pasado miles de jugadores foráneos que forman parte de su historia. Muchos han sido los protagonistas de la historia de la Liga ACB. Desde los anotadores más implacables (Drazen Petrovic, Oscar Schmidt, Nate Davis, Eddie Lee Philips, Kenny Simpson, Mike Phillips, Walter Berry, Joe Arlauckas) a los mejores tiradores (Jeff Lamp, Brian Jackson, Charlie Bell, Ralph McPershon, Conner Henry, Velimir Perásovic) sin duda los más espectaculares y mejores matadores (David Russell, Essie Hollis, Rickie Winslow, Mike Smith, Chandler Thompson, Henry Turner, Kenny Walker) también han sido los mejores pasadores (Elmer Bennett, André Turner, Michael Anderson, Pepe Sánchez, Sarunas Jasikevicius, Pablo Prigioni) y los grandes reboteadores (Jerome Lane, Clarence Kea, Steve Trumbo, Warren Kidd, Arvidas Sabonis, Larry Micheaux, Granger Hall).
Author: pumuky320ci (Updated

Nov 29, 2015

)
Sources:

Completely done by the author
| | Element | Your votes | |
| --- | --- | --- | --- |
| 151 | Tony White | | 6.0 |
| 152 | Wayne Sappleton | | 6.0 |
| 153 | Shaun Vandiver | | 6.0 |
| 154 | Mikhail Mikhailov | | 6.0 |
| 155 | Goran Sobin | | 6.0 |
| 156 | Nikola Loncar | | 6.0 |
| 157 | Valdemaras Homicius | | 6.0 |
| 158 | Laurent Foirest | | 6.0 |
| 159 | Miroslav Beric | | 6.0 |
| 160 | Jaka Lakovic | | 6.0 |
| 161 | Andrei Fetisov | | 5.0 |
| 162 | Albert Burditt | | 5.0 |
| 163 | David Benoit | | 5.0 |
| 164 | Maciej Lampe | | 5.0 |
| 165 | Chris Corchiani | | 5.0 |
| 166 | John Ebeling | | 5.0 |
| 167 | Dusko Savanovic | | 5.0 |
| 168 | Rimantas Kaukenas | | 5.0 |
| 169 | Darryl Middleton | | 5.0 |
| 170 | Bernard Hopkins (baloncestista) | | 5.0 |
| 171 | Darrell Lockhart | | 5.0 |
| 172 | Reggie Johnson | | 5.0 |
| 173 | Mike Ansley | | 5.0 |
| 174 | Dan Godfread | | 5.0 |
| 175 | Rod Mason | | 5.0 |
| 176 | Stanley Roberts | | 5.0 |
| 177 | James Blackwell | | 5.0 |
| 178 | Brian Clifford | | 5.0 |
| 179 | Larry Spriggs | | 5.0 |
| 180 | Linton Townes | | 5.0 |
| 181 | Mindaugas Timinskas | | 5.0 |
| 182 | Damir Mulaomerovic | | 5.0 |
| 183 | Ken Bannister | | 5.0 |
| 184 | Charles Gaines | | 4.0 |
| 185 | Yaroslav Korolev | | 4.0 |
| 186 | Henk Norel | | 4.0 |
| 187 | Sitapha Savané | | 4.0 |
| 188 | Laurent Sciarra | | 4.0 |
| 189 | Darren Phillip | | 4.0 |
| 190 | Tom Sheehey | | 4.0 |
| 191 | Nicolas Gianella | | 4.0 |
| 192 | Raymond Brown | | 4.0 |
| 193 | Derrick Alston | | 4.0 |
| 194 | Leron Ellis | | 4.0 |
| 195 | Sergei Babkov | | 4.0 |
| 196 | Nate Higgs | | 4.0 |
| 197 | Levi Rost | | 3.0 |
| 198 | Ryan Toolson | | 3.0 |
| 199 | Sergiy Gladyr | | 3.0 |
| 200 | Ian O´Leary | | 3.0 |

Check your privacy settings on your new preference list