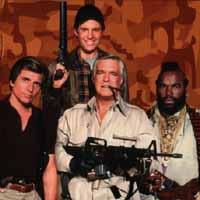 Add to web

Code to insert in web site:
3 comments
31 lists
3527 visits
"In 1972 a crack commando unit was sent to prison by a military court for a crime they didn't commit: Coronel John Hannibal Smith (George Peppard), Sergeant M.A. Barracus (Mr. T), Captain H.M. Murdock (Dwight Schultz) and Lieutenant Templeton Peck (Dirk Benedict). Today, still wanted by the government, they survive as soldiers of fortune." This was repeated at the start of every show and it was engraved in the mind of an entire generation. Without a doubt this series has shaped history. Take an interest and tell us! Which of the original A-Team members was your favorite?
Did you know you can display the rankings in different ways?

Check your privacy settings on your new preference list