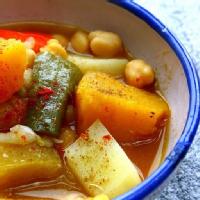 Add to web

Code to insert in web site:
1 comments
36 lists
2675 visits
La comunidad autonóma de Andalucía posee una rica gastronomía propia. Es muy variada y hay diferencias entre la costa y el interior, la gastronomía andaluza forma parte de la dieta mediterránea. Está muy vinculada al uso del aceite de oliva, los frutos secos, los pescados y las carnes. En la repostería se muestra gran influencia de la cocina andalusí, con el uso de almendras y miel, siendo muy conocidos de esta región los dulces navideños: los mantecados, polvorones y alfajores. Desde este ranking os animamos a que votéis por el plato que más os gusta de la gastronomía andaluza.
Did you know you can display the rankings in different ways?

Check your privacy settings on your new preference list