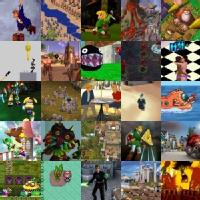 Add to web

Code to insert in web site:
1 comments
6 editions
11449 visits
Time Magazine annually conducts surveys about different current event topics, and this ranking is the result of a survey centered on the videogame industry. This industry forcefully emerged in the United States, Europe and Australia at the end of the 70s, with the arrival of table tennis and other applications. Today videogames have spectacular 3D graphics, very sophisticated control methods and they generate millions of dollars throughout the world (surpassing even the film industry). That's why this ranking is especially important...so which of these videogames is your favorite?
Many rankings have multiple editions and you can choose the one you want to display
Did you know you can display the rankings in different ways?