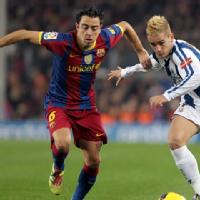 Add to web

Code to insert in web site:
0 comments
7 editions
10268 visits
La Federación Internacional de Historia y Estadística de Fútbol (IFFHS) es una institución instituida en 1984 con la finalidad de establecer una documentación cronológica, estadística y científica del fútbol a nivel mundial y determinar los récords mundiales en todas las áreas de dicho deporte de acuerdo con los principios de la FIFA. La posición de centrocampista constructor posiblemente sea la función o demarcación más importante en el fútbol. El constructor es el que crea el juego y le da el ritmo necesario al equipo. Si el constructor no funciona, el juego del equipo se resiente desde sus cimientos. En este ranking os presentamos a los mejores constructores de juego según la IFFHS
Many rankings have multiple editions and you can choose the one you want to display
Did you know you can display the rankings in different ways?