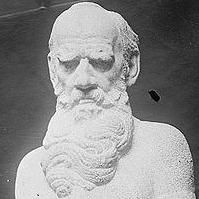 Add to web

Code to insert in web site:
0 comments
25 lists
2180 visits
La escultura es una de las Bellas Artes en las que el artista se expresa modelando o tallando en distintos materiales. Dado que durante una gran parte de la historia la mayoría de las personas eran analfabetas, la escultura consiguió explicar al pueblo historias, acontecimientos o conceptos. Véanse por ejemplo los relieves de los arcos del triunfo romanos o los pórticos de las iglesias románicas. Se podían considerar libros esculpidos en piedra. Otras veces la escultura cumple una función ornamental, especialmente a partir del siglo XX. Este ranking pretende descubrir los artistas naturales de Armenia que han dejado su impronta en la historia de la escultura. Según tu criterio, ¿cuál es el mejor escultor armenio de todos los tiempos?. (En la imagen: "Monumento a Leon Tolstoi", del escultor Sergéi Merkúrov). ¡Anímate y participa!
Author: vladimirborisov (Updated

Dec 5, 2012

)
Sources:

Completely done by the author
Did you know you can display the rankings in different ways?

Check your privacy settings on your new preference list