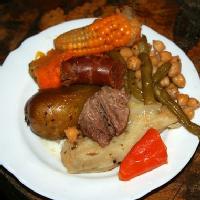 Add to web

Code to insert in web site:
0 comments
5 lists
2250 visits
La gastronomía de las Islas Canarias está compuesta por los platos tradicionales del archipiélago canario y constituye un importante elemento de la identidad cultural del pueblo canario. Se caracteriza por su sencillez, variedad, riqueza de ingredientes, producida por la fragmentación del territorio (pudiendo encontrarse en cada isla recetas diferenciadas), la variedad de los productos de la tierra y el mar de las islas, y su carácter ecléctico, debido a los múltiples aportes culturales que ha recibido a lo largo de su historia, y por el relativo desconocimiento que de ella se tiene en el exterior. La gastronomía canaria está influida por otras cocinas, sobre todo por la herencia de los guanches y la influencia de la gastronomía latinoamericana, muy especialmente de la venezolana, país con el que el archipiélago ha tenido históricas relaciones humanas y culturales desde el siglo XIX y especialmente a mediados del siglo XX.
Did you know you can display the rankings in different ways?

Check your privacy settings on your new preference list