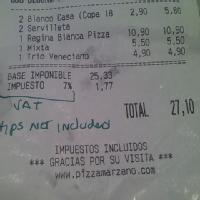 Add to web

Code to insert in web site:
0 comments
1 editions
19754 visits
El impuesto sobre el valor agregado o impuesto sobre el valor añadido, es aplicado en muchos países, y generalizado en la Unión Europea. El IVA es un impuesto indirecto sobre el consumo, es decir financiado por el consumidor final. Un impuesto indirecto es el impuesto que no es percibido por el fisco directamente del tributario. El IVA es percibido por el vendedor en el momento de toda transacción comercial (transferencia de bienes o servicios). No todos los países tienen IVA, aunque suelen tener un impuesto sobre las ventas de bienes de consumo. Por ejemplo, los Estados Unidos tienen un sistema de gravamen de los bienes de consumo que aplica cada Estado de forma independiente por lo tanto no aparece en este ranking. Se ha tomado como referencia a la hora de elaborar esta lista la tasa normal de IVA, no la reducida.
Did you know you can display the rankings in different ways?