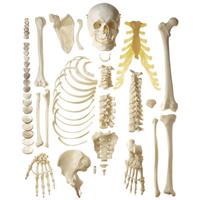 Add to web

Code to insert in web site:
1 comments
1 editions
29397 visits
An adult typically has around 206 bones although it varies depending on a person's age. Bones' shapes vary greatly, and they have multiple functions. Their morphology is defined by their internal structure, which is quite complex, but also functional. If we think about it, bones are fascinating organs. They are plastic and lightweight, but at the same time resistant and hard. Our bodies have bones as long as the femur, measuring 50.2 cm in length, or as small as the stirrup, measuring 0.25 cm. This ranking classifies the different bones in the human body by their length.
Did you know you can display the rankings in different ways?