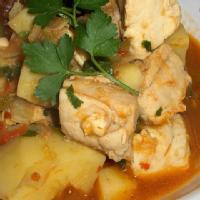 Add to web

Code to insert in web site:
0 comments
37 lists
4453 visits
The Basque cuisine is wide and varied, made with many different ingredients, from the Bay of Biscay (seafood) and interior (vegetables, cereals, meat, etc.). In the Basque Country are offered in bars and restaurants popularly known as pinchos, tapas equivalent to the Basque tradition españolas.El Basque Country is the region of the Iberian Peninsula with more Michelin stars, and has outstanding culinary schools, such as Luis Irizar, the Hotel School of Leioa, or the School of Hospitality Aiala, backed by Karlos Arguiñano. From this ranking we encourage you to vote for the dish that you like from the Basque cuisine.
Did you know you can display the rankings in different ways?

Check your privacy settings on your new preference list