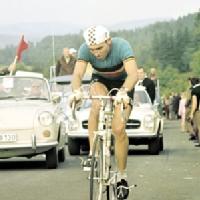 Add to web

Code to insert in web site:
1 comments
1 editions
7676 visits
A las tres pruebas de ciclismo en ruta por etapas cuya duración es de tres semanas (Tour de Francia, Giro de Italia y Vuelta a España) se las conoce como Grandes Vueltas. Miles de ciclistas profesionales han formado parte de estas competiciones, con distinta suerte, desde sus primeras ediciones.
Sólo seis de ellos han logrado la victoria final en las tres pruebas diferentes, pero en este ranking se incluyen los que han ganado en mayor número de ocasiones en cualquiera de ellas.
Did you know you can display the rankings in different ways?