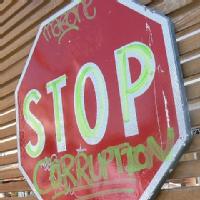 Add to web

Code to insert in web site:
0 comments
2 editions
16648 visits
La corrupción de las administraciones públicas y gobiernos de todo el mundo es uno de los problemas más acuciantes de la sociedad actual y uno de los que más difícil solución presenta. La coalición anticorrupción Transparency International es un movimiento activo a nivel global cuyo fin es presionar a los entes públicos para que la transparencia en los gobiernos y en la utilización de recursos públicos se conviertan en una realidad. En su labor de información acerca de la corrupción, Transparency International elabora anualmente un ranking acerca de la corrupción en todos los países del mundo. En este ranking las puntuaciones más bajas pertenecen a los países con más corrupción y las más altas a los más transparentes en su gestión. Este ranking es obsoleto, a partir del 2012 se debe consultar este listado
Many rankings have multiple editions and you can choose the one you want to display
Did you know you can display the rankings in different ways?