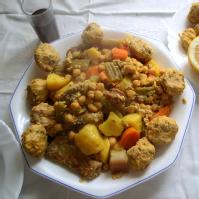 Add to web

Code to insert in web site:
0 comments
6 lists
2967 visits
La cocina murciana tiene influencias de las vecinas cocina manchega, valenciana y granadina. No obstante la región de Murcia pertenece al levante español y eso se hace ver en el carácter marinero de algunos platos, siendo su ingrediente característico el arroz y algunas preparaciones de pescado en salazón: mojamas. En el caso de Murcia se hace ver una abundante huerta en el interior (representando la cocina ribereña y hortelana), un apego por los productos del cerdo identificados con la matanza del cerdo (cocina manchega), y una abundante cocina de pescados y mariscos. Cabe destacar que los elementos básicos de la cocina murciana son el pimiento y el tomate. Desde este ranking os animamos a que votéis por el plato que más os gusta de la gastronomía de la Región de Murcia.
Did you know you can display the rankings in different ways?

Check your privacy settings on your new preference list