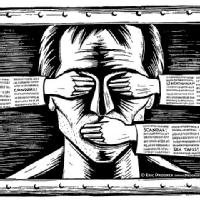 Add to web

Code to insert in web site:
0 comments
13 editions
14225 visits
Ranking de los países del mundo de acuerdo a su censura según Reporteros Sin Fronteras (2015) »

El Índice de libertad de prensa es un indicador anual compilado y publicado por la organización no gubernamental Reporteros Sin Fronteras, sobre la base de la evaluación de esta organización de sus registros sobre libertad de prensa. El informe se basa en un cuestionario, enviado a organizaciones asociadas y a sus 130 corresponsales alrededor del mundo, así como a periodistas, investigadores, juristas y activistas pro-derechos humanos. Desde 2002 se otorga una puntuación a cada país según su nivel de censura; cuanto más baja, menor nivel de censura. Desde el año 2012 se han introducido puntuaciones negativas (las puntuaciones oscilan entre -10 y 142). España se sitúa en el puesto 39 con 9.75 puntos según el último informe publicado en enero de 2012.
Many rankings have multiple editions and you can choose the one you want to display
Did you know you can display the rankings in different ways?