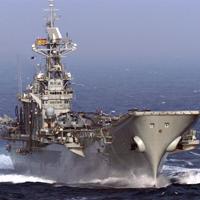 Add to web

Code to insert in web site:
2 comments
1 editions
18889 visits
The first aircraft carriers were large battleships. When needed, their armament was removed and a flight deck was added. In the 1930s, prior to World War II, the United States, Japan and Great Britain started to build even larger aircraft carriers. The U.S. and Japan were convinced that aircraft carriers would be at the center of a new naval war and Great Britain believed that they would serve to complement battleships and cruise ships and would continue to be the navy's main ships. During World War II there were up to 200 aircraft carriers in the world. Nowadays, however, there are only 20 active aircraft carriers. This ranking lists the countries that have the greatest number of aircraft carriers (we recommend that you use the personalized view so that you can check out the aircraft carriers that have been removed and/or are in construction).
Many rankings have multiple editions and you can choose the one you want to display
Did you know you can display the rankings in different ways?
Which edition do you want to see? »