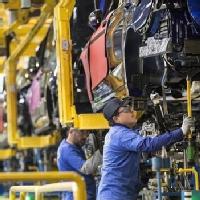 Add to web

Code to insert in web site:
0 comments
78 editions
23892 visits
Variación mensual del índice general de Precios Industriales para CCAA y España según el INE (June 2015) »

En este listado se muestra como valor principal la variación mensual del índice de precios industriales para todas las CCAA y el Total Nacional. En columnas aparece también el índice general, la variación anual y la media del año en curso. El Índice de Precios Industriales (IPRI) es un indicador coyuntural que mide la evolución mensual de los precios de los productos industriales fabricados y vendidos en el mercado interior, en el primer paso de su comercialización, es decir, los precios de venta a salida de fábrica, excluyendo los gastos de transporte y comercialización y el IVA facturado.
Many rankings have multiple editions and you can choose the one you want to display
Did you know you can display the rankings in different ways?