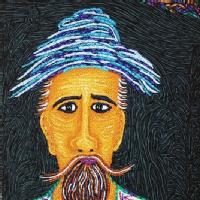 Add to web

Code to insert in web site:
0 comments
1 editions
1526 visits
Carlos Neyra artista colombiano ( serígrafo grabador, pintor, dibujante y diseñador gráfico). »

Carlos Neyra, Serígrafo de profesión, trabaja en color y blanco y negro con gran sabiduría. Se le reconoce como un re-creador lleno de imaginación; un profesional de rara originalidad y un excelente técnico. Empujado por su innata tendencia al arte, siempre ha dado pruebas de una dedicación ejemplar al oficio. Se inicia en el arte de la serigrafía en el taller de su padre, y más adelante establece sólidas relaciones con los pintores y editores, a quienes acompaña en la tarea de multiplicar la producción artística. Su auténtica y fuerte personalidad le obliga a resolver, por sí mismo, los problemas técnicos que le plantea cada trabajo. Hombre sensible a las innovaciones, se ha impuesto la disciplina de una observación rigurosa, para aprehender las destrezas de la serigrafía manual. Las múltiples posibilidades ensayadas, le han pautado procedimientos cada vez más depurados; de modo que los aciertos obtenidos son el nervio central de su constante investigación. Dra. Inés Flores 1993.
Author: Carlos Neyra
Sources:

Completely done by the author

Crítica de arte Dr. Inés Flores. Quito, Ecuador, 1993.