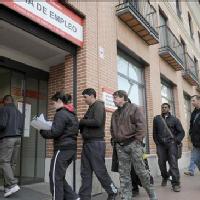 Add to web

Code to insert in web site:
0 comments
245 editions
177672 visits
Ranking of Spanish Autonomous Communities with the Most Unemployed Workers Registered at the National Employment Institute (September 1996) »

Unemployed workers are people who are of age, meet the necessary conditions and have the desire to work (active population), but have no job.
In Spain the traditional National Employment Institute (INEM), now renamed Public Service of State Employment (SEPE), is the independent body in charge of managing employment, the public register of contracts, managing employment subsidies for companies, and managing unemployment benefits.
This ranking shows the unemployment rates registered in each Autonomous Community throughout time. Keep in mind that these figures may be reduced regarding the real situation as the SEPE does not count people in specific situations like those enrolled in courses, students who wish to work, those seeking part-time employment, people who have rejected a job offer, etc.
Many rankings have multiple editions and you can choose the one you want to display
Did you know you can display the rankings in different ways?