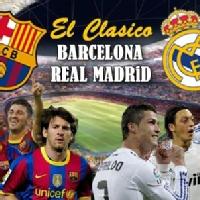 Add to web

Code to insert in web site:
0 comments
1 editions
7576 visits
El clásico español, conocido entre los periodistas como el clásico, es el partido de fútbol que más veces se ha repetido entre dos clubes españoles. Históricamente, ese "honor" correspondía a los enfrentamientos entre el Athletic Club y el Real Madrid C.F. que hasta el comienzo de la temporada 2011-12 se habían enfrentado 215 veces entre Liga y Copa. A partir de entonces, fue superado por los enfrentamientos FC Barcelona - Real Madrid C.F., aunque bien es cierto que ya se le atribuía erróneamente desde hacía tiempo atrás. Los últimos años estos encuentros también se suelen denominar partido del siglo. Actualmente es la rivalidad más importante del fútbol español, y el encuentro de fútbol entre clubes más seguido del mundo, con aproximadamente 500 millones de espectadores, logrando colocarse entre los tres acontecimientos deportivos más importantes del mundo sólo por detrás de la final de la Copa Mundial de fútbol 2010 de Sudáfrica y de los Juegos Olímpicos de Beijing 2008.
Did you know you can display the rankings in different ways?