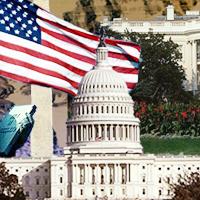 Add to web

Code to insert in web site:
1 comments
1 editions
20518 visits
The President of the United States of America is not only the highest political official by influence and recognition, but since the end of the World War II he is also generally considered to be the most powerful man on Earth. In his hands he holds the responsibility of governing the world's richest country, a country that also has the largest military apparatus in history. Currently presidents may only serve two terms in office, although this has not always been the case. This ranking lists the men who have served the longest terms in office.
Did you know you can display the rankings in different ways?