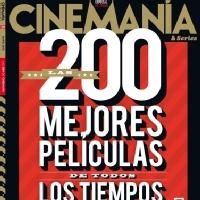 Add to web

Code to insert in web site:
4 comments
1 editions
45628 visits
En este ranking os presentamos la lista de 200 películas que la revista Cinemanía ha creado a partir de los votos de sus lectores y de otras personalidades de diferentes ámbitos profesionales. Entre las personalidades que han ayudado a crear esta lista encontramos músicos como Enrique Búnbury o Quique González, actores como Ricardo Darín o personalidades de Internet como Enrique Dans o David Bravo. En la lista encontramos películas para todos los gustos, desde clásicos del cine mudo como Metrópolis o El Maquinista de la General hasta "blockbusters" palomiteros como Harry Potter y Piratas del Caribe. Como sucede con este tipo de listas la polémica está asegurada, así que os animamos a dejar vuestra opinión en la sección de comentarios de este ranking.
Author: fran (Updated

Jun 6, 2012

)
Sources:

Written publication
Did you know you can display the rankings in different ways?