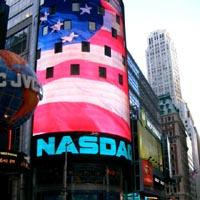 Add to web

Code to insert in web site:
0 comments
419 editions
292514 visits
Ranking of the Companies with the Most Stock Movement in the NASDAQ-100 Index (October 1983) »

This report is ordered by the average volume of shares negotiated monthly, and contains data aggregated monthly of all the companies that participate in the NASDAQ-100 technological index. This stock index includes 100 of the biggest non-financial companies. The weight of companies in the index is based on its market capitalization, with specific rules that limit the influence of the greatest components. In the personalization tab you may check out the average monthly negotiated stocks of each company for each session, as well as opening share prices and the maximum and minimum values reached monthly.
Many rankings have multiple editions and you can choose the one you want to display
Did you know you can display the rankings in different ways?