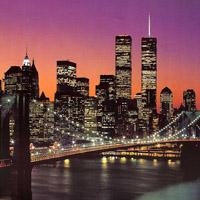 Add to web

Code to insert in web site:
0 comments
49 lists
14759 visits
New York City has historically played a key role in the development of new skyscrapers. In fact, since 1980, eleven buildings in the city have obtained the title of world's tallest skyscraper. New York experienced a construction boom from 1900 to 1930, during which 16 of the 82 tallest buildings (including the Chrysler Building and the Empire State Building) were constructed. The second skyscraper boom began in 1960 and continues to the present day. Participate in this ranking by voting the most beautiful skyscraper of the world's capital city.
Did you know you can display the rankings in different ways?

Check your privacy settings on your new preference list