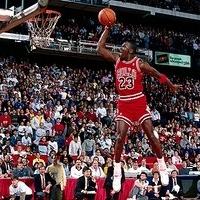 Add to web

Code to insert in web site:
0 comments
12 lists
5520 visits
El mate, machaque, volcada o slam dunk es un término usado en baloncesto para describir una finalización de 1 jugada, realizada cuando un jugador salta y mete el balón a través del aro con una o dos manos tocando el aro o colgándose, de arriba a abajo y sin que la pelota esté suelta en el aire. Esta canasta vale dos puntos, como todo lanzamiento desde dentro de 6'25 y en juego. Es una acción difícil de realizar, porque hace falta que el jugador tenga la suficiente altura (potencia de salto y coordinación) para llegar al aro de forma adecuada en situación de partido. Un mate puede ser una manera de desmoralizar a los adversarios y, en particular, al que defiende al jugador que hace el mate. Es una acción muy espectacular para el espectador. Vamos a repasar los jugadores más espectaculares que hicieron del mate un autentico arte: (J.Erving, L.Nance, M.Jordan, D.Wilkins, S.Webb, K.Walker, H.Miner, I.Rider, B.Barry, K.Bryant, V.Carter, J.Richardson, D.Mason, A.Iguodala, G.Green, B.Griffin)
Author: pumuky320ci (Updated

Jan 3, 2014

)
Sources:

Completely done by the author
Did you know you can display the rankings in different ways?

Check your privacy settings on your new preference list